PET PRIDE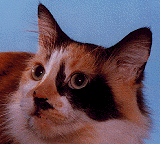 Special Support Programs:
FOSTER PARENTS NEEDED
Many loving and needy "orphan kitties" at our "Home for Cats" need your help NOW!!! Foster Feline parents contribute $20 per month to sponsor a kitty, assisting us to provide food and medical care for these cats awaiting adoptive home. Many are hard to place and some cats have been with us for ten years and longer! Contact us or leave Email and we will send you a color photo and personal letter from your kitty and a supply of envelopes or you may prefer to make Online Donations - see "Donate Now" information on left. You may find this method very convenient for your monthly Foster Feline support payments! Do visit us if you can. PLEASE help us continue to provide loving care for these helpless kitties who look to YOU for their future.
BECOME A PATRON FOR CATS
Our need for donations is constant to save the lives of otherwise homeless cats. Our Patron Program allows your contribution to be automatically sent to us every month via PayPal from your credit card or checking account. You choose the amount and just $10.00 per month is gratefully accepted. You may begin to participate in this program immediately using our Donation Program. Help us to help the cats who look to YOU for their survival! Become the PATRON for CATS today!!!
YOUR WILL
Please contact us for information as to how you can provide the GIFT of LIFE by remembering PET PRIDE in your will. You may also provide for the future care of your cat(s) to be entrusted to our care in our "Home for Cats." You may write to us at our address below or leave Email (see Contacts on the left). Many thanks!
You may write to us as follows:
PET PRIDE
P.O. Box 1055
Pacific Palisades, CA 90272
(C) PET PRIDE, P.O. Box 1055, Pacific Palisades, CA 90272
Online Donations are NOW Available!